<![if !vml]>

<![endif]>     SPEAK UP!
          News  from Successfully Speak Up Toastmasters
                          Meeting every second and fourth Friday, 7:30 pm
                           Mary Jacobs Library, Rocky Hill, New Jersey
                         Club 6375, District 38. Issue: January, 2009
We're Off And Running for 2009!
<![if !vml]>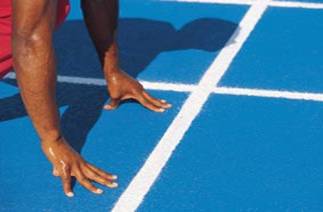 <![endif]>
Successfully Speak Up Toastmasters of Rocky Hill is primed for a great 2009!  With the many accomplishments we saw for 2008, we are only bound to get better! 
As a Club
SSU has always been one of the smaller clubs in District 38 and its Area, 19—yet the "small but mighty" label applies.  For that matter, we've used our size—we generally hover around 20-25 members total—to our advantage. Visitors have commented: "the size makes me feel comfortable;"  "I feel immediately part of the group;"  "It's relaxing here" and, significantly, "I can really get a chance to give a speech here—it is much harder at the large Toastmasters clubs to get on the agenda."
Proof of our effectiveness lies in the fact that SSU has ranked as a President's Distinguished Club for the third year in a row (2007-2008).  The "President's Distinguished" award is granted by Toastmasters International to less than 15% of all TM clubs, on average.  It is awarded to those clubs that meet a series of very stringent requirements, including achieving a specific number of speaking qualifications and gaining new members.
For 2008-2009, we've already gained seven new members and are very much looking forward to seeing them grow personally through the club.  A new mentoring program is being put into place for those who would like the support in moving forward.
Individuals
Two members, new in 2008, blew us away by achieving the first level award, Competent Communicator, in less than a year.  This level of commitment is truly unusual by any standard. Congratulations, Gian Paolo Gracia and Joon Han!  
<![if !vml]>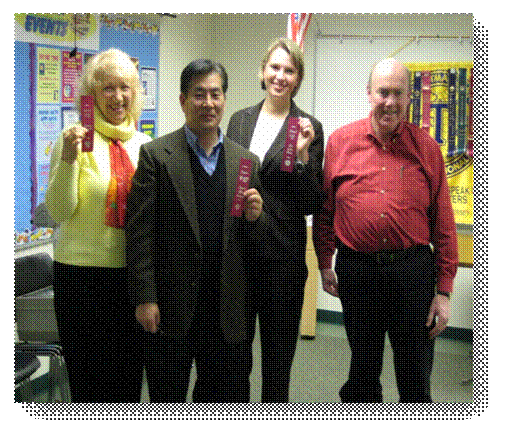 <![endif]>Left:  Maria Okros, celebrating her fifth speech; Joon Han, completing his tenth for the Competent Communicator award;  Oksana Katsuro-Hopkins , finishing her third. And Thaine Shetter, the evening's Toastmaster.
Other  recent notable achievements:
--Thalia Kuentzel achieved her Advanced Communicator-Bronze.
--Thaine Shetter completed his Advanced Leader-Bronze. He also won both our Club Humorous Speech and Table Topics contests. In 2007-2008, Thaine was a President's Distinguished Area Governor (Area 19). He also has been active in facilitating Toastmasters meetings at the New Jersey State Prison.
--Jim Samuel, representing Division D (by way of Mid-Day Toastmasters) placed third in the Table Topics competition at the District 38 Competition. Jim has completed his fourth Advanced Communicator -Bronze award.  Jim has been key in supporting and strengthening the Mid-Day Toastmasters Club by starting a second venue—on Monday evenings in East Windsor.
--Susan Matson placed first in the club (representing Mid-Day) and Area 3 Humorous Speech contests. She also competed in the Division D competition and, although she didn't place, she reports thoroughly enjoying the experience.
-- Oksana Katsuro-Hopkins used the club as a launching/testing platform for a new course she is teaching at Colombia Unversity: she gave the orientation for the course for members.
NEW AND UPCOMING
At our January 9 meeting, SSU welcomed two new members: Bob Baldi and Gita Roy. Welcome!
We're psyched—are you? The club International Speech Contest takes place Friday, February 27. To compete, you only need to have completed six speeches and be a member in good standing. It's also the evening of the Speech Evaluation contest.  Contact Jim Samuel if you would like to compete.  See you there!