SINGLES SPEAK UP JULY, 2005 NEWSLETTER
CLUB 6375, District 38
Meeting Second and Fourth Fridays of the Month
Rocky Hill Library
Editor: EYL
DISTINGUISHED!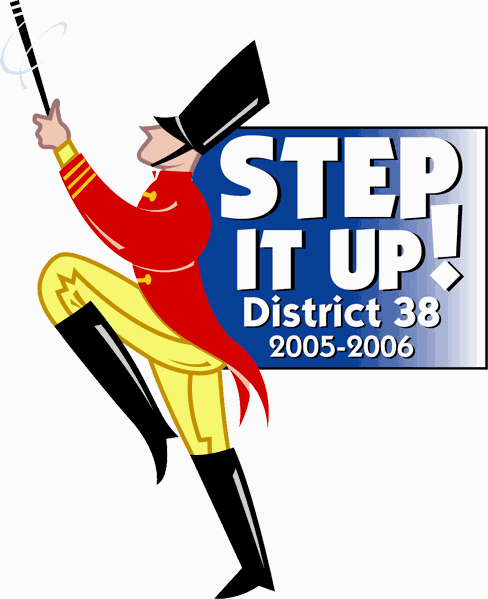 Hello Fellow Toastmasters of
Distinguished District 38,

The totals are in! We are number 20 in the world! We did a tremendous job! Each member should give themselves a pat on the back and a twirling HIGH-FIVE. Enjoy our accomplishments!

CONGRATULATIONS!



JULY 1ST MEETING: BACK TO THE FUTURE
After several years of meeting elsewhere, we were going back to our old home – Rocky Hill Library for the new Toastmaster year.
New club president Jim convened the meeting at 7:33 pm. Toastmaster Rosemary introduced Karen as word master. The word was affranchise, verb meaning set free. John was joke master.
Jim gave the first speech of the new year, "Fun and Growth", #5 from the Professional Speaker advanced manual. Jim encouraged members to follow the TI program, and to try new things in toastmasters. Eddie did Successful Club Series module "Finding New Members", which targeted on focusing on guests.
Anne led table topics, citing quotations about freedom and independence, asking respondents for their thoughts. Guest Thalia Kuentzel overcame her nervousness to participate.
Evaluator Susan M. gave Jim high marks for his speech. Her suggestion was that he could have included a moving anecdote to personalize his message about how much Toastmasters can mean on an individual level.
Club members agreed with Yizhi's idea of switching meeting to second and fourth Fridays beginning August. We hope this will help us recruit Princeton and other clubs members as duals.
Jim adjourned the meeting at 8:50 pm. Eddie agreed to return to clean the white board.
Anne, Harry, Thaine, Jim, Eddie, John and guests, Frank and Thalia went to the Santa Fe grill to celebrate the beginning of yet another successful Toastmaster year.
JULY 15TH MEETING: OFFFICER INSTALLATION
Karen bravely stepped out of her comfort zone not once but twice at the meeting! First, she led the group off with the Pledge of
Allegiance. Later she delivered a story with a punch as the joke master.
With Jim leading the way as Toastmaster, the meeting also had the twist of two seasoned speakers returning to earlier speaking requirements.
Eddie Donohue gave an Icebreaker to start a new CTM. As usual, he had everyone laughing--this time as he recounted his days as a mischief maker growing up, and finally realizing he had to assume a role as a "regular nice guy" once he got to college. Rosemary, too, gave a CTM speech, saying that this would give her the opportunity to do more stories. Doing CTM number two, she persuaded the audience to think more about "The Power of Myth," and embedded into her speech the classic story of Pandora. As usual, Rosemary's gestures gave a clear and vivid picture of every element of the precious tale.
Harry touched on serious topics as Toastmaster, asking members to address issues related to terrorism, recent London events, and others. Thaine, Susan M., and two guests who had come from towns over an hour away were among the speakers.
A special highlight was the installation of officers, as led by Area 19 Governor Leonie. Those taking an oath to honor their office included Jim as President, Susan M. as VP of Education, Rosemary as Secretary, Thaine as Treasurer, and Karen as Sergeant at Arms. Leonie also gave us some useful and constructive criticisms on physically positioning the meeting, providing an agenda, having roles in place, etc.
JULY 29TH MEETING: THE BONUS MEETING OF THE MONTH
What a pleasure it was to meet not twice but three times in the month of July! We enjoy seeing our fellow Toastmasters so much that we would never let this great chance slipping by.
After Jim started the meeting, Toastmaster Michele introduced Thalia as word master. The word of the day was "nascent", an adjective for coming into existence, emerging. It means "to be born" in Latin. Truly a meaningful word to learn!
Jim gave a technical speech that was surprisingly interesting. It's about the make and usage of carbon nano tubes. The magical 62,000 miles long carbon nano tube is planned to be made by April 12th, 2018 as an elevator to space. How about changing our meeting location to the space 13 years from now? I'd love to take that amazing elevator ride , watch our mother planet and listen to your stories of living on it from above. Would you vote for our new meeting location?
Eddie Donohue gave his speech with the emphasis on having an appropriate outline and transition to make his point clear. That goal was certainly well achieved. Eddie recounted the history of rise and decline of the union and analyzed the reason behind the change. He concluded his speech with helpful suggestions: Take advantage of choices; advocate for that change you'd like to see in society; honor the previous generations that were unionized and have faith in your future prosperity and successful retirement.
The theme for table topics master Karen questions was "Conversation starters from the pros". It focused on improving our skills to strike a conversation with a totally stranger. Although Karen got the clever idea from on line dating tips, the strategies are useful in all kinds of social situations that we encounter in our daily life.
During the table topics practice, Thalia told Yizhi that she reminded her of Sandra Bullock and got Yizhi's response of wanting to be Barbara Walters if she could be any celebrity she'd like to. Following the instruction of "looking at someone and find something on this person that you can connect to", Sue Shaffer told Thalia that she liked her dress because she had exactly the same one.
Eddie picked Michelle out of the audience to ask her about her job in Cook College. Michelle carried on conversation with Eddie by counting her enjoyment and concern there. Thaine asked Karen how she had enjoyed the new meeting place, how long she had been with the club. He then steered his way into asking Karen to give her ice breaker. Good try Thaine and it actually worked – see next newsletter for Karen's Ice Breaker report!
The evaluation session was interesting because Eddie and Jim evaluated each other's speech. Eddie pointed out that Jim was not only articulate in his speech but also made audience feel smarter at the end. Eddie suggested Jim to improve on meeting the objective of making people adapting to the topic. Jim praised Eddie's speech as informative, timely and interesting with a catching opening. As usual, Eddie had sufficient eye contact with his fellow Toastmasters, kept good gestures, and used his notes appropriately. Jim concluded his evaluation by suggesting Eddie to tighten his speech organization and put some personal touch to it.
A very fruitful meeting to end the month of July in a very meaningful way! We certainly took the advantage of the bonus well.
CLUB OFFICER PROFILE
Rosemary W.
This June Rosemary reached her goal of early retirement. Congratulations!
During her successful careers as a high school math teacher she had also been an employment counselor for the state of North Carolina and an Administrative Assistant at ETS.
We know what a talented story teller Rosemary is from her many speeches at club meetings. Next year, when Rosemary will only work part time, she plans to be a storyteller, volunteer at the nature center, to write children's books, and to make independent films. Her ambitions are impressive and she may well be even busier than when she worked full time. A true inspiration she is!
Rosemary loves Toastmasters because it provides the opportunity for people to grow and improve from wherever they are. She has watched people starting out so hesitant and blossoming into confident speakers. Some of them have moved on to other activities. However the skills they learned go with them. Whenever Rosemary sees someone else improve, she knows it's possible for her, too. Rosemary would like to see a workshop on making Table Topics a positive experience. We could collect ideas and discuss what has encouraged people to participate and what makes it more traumatic.
A resident of East Windsor, Rosemary also would like to prepare a written "script" for the toastmaster to have as a starting point. She wrote one for herself by watching other people. Some people are very good at including explanations and welcoming newcomers. She thinks we could all benefit from incorporating those ideas. Rosemary thinks it would be nice to have more informal social events outside of meetings.
What Rosemary consider most unusual about herself is that she was part of the back-to-the -land movement in the seventies. She lived on an old farm and raised geese and goats before she moved to a computer-controlled solar heated house.
She has heard many memorable speeches. Two that spring to her mind are Karen Mt.'s speech in which she said that her son came "from her heart, not her belly." Also Susan M.'s speech in which she described her experience of almost being killed while taking a bath in some Eastern European country.
We look forward to hearing more interesting stories from Rosemary, reading her engaging books and watching her exciting films!